Kayak Adventure Check List
How to Make Apple Pie Moonshine's Outdoor Series, Part One:
The days are getting longer, and the sun is getting hotter. It's that time of year again—boating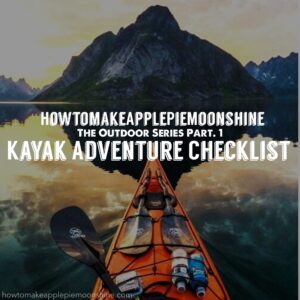 season! Getting out on the water is definitely a great way to squeeze the most out of your summer. Whether you're planning a kayaking trip, a canoeing adventure, or even some whitewater madness, there is something about river trips that gives you a different look at the land. Sure, there are vacations that take you to museums or historical sites in the city, but come on! Let's face it, there is more adventure and history in exploring the land and the waterways that our founders conquered and fought to protect to establish this amazing country we call home. Outdoor adventures are way better than reading about someone else's adventures on a plaque in an air-conditioned building.
Get out there; the water is calling. Nothing quite beats the feeling of your heart pounding while you tackle some rapids or the feeling of accomplishment after seeing how far you've come on a multi-day coastal kayak trip.  Just be warned, you might never want to vacation any other way again!
It's safe to say that we here at How to Make Apple Pie Moonshine love the outdoors just as much as we love our apple pie shine. To help keep you inspired to get out there and enjoy the summer, in our Outdoor Series we are going to share our favorite activities. This series will include our favorite spots for sports as well as essential camping, packing, and good-time tips we have up our sleeves to help make your trips a little easier and that much more enjoyable. Kayaking, camping, fishing, backpacking, and biking are just some of our favorites.
We hope you enjoy our summer Outdoor Series over a cold glass of Apple Pie Moonshine.
Packing for your Kayak Adventure
To kick off our Outdoor Series, we will start with our Kayak Adventure Checklist. This list includes a handful of the essentials as well as some packing tips and tricks for you to have a great time this summer.
Being well prepared for any boat trip comes from proper planning and training. Planning might seem a bit tedious, but being properly prepared can really make or break a trip. Knowing your route and how many days your trip will last is the first step in planning. Knowing conditions and classes of water that are right for your skill level is important as well. After you have packed all the essentials and are well prepared, paddle camping can be mastered with very simple steps, but for you beginners out there we strongly advise taking a boating class or two and really educating yourself on water safety. Being well prepared won't just save your ass in a time of need; it will also ensure a smooth trip, which will make having a good time a whole lot easier.
Packing light is the key to any camping trip: Bring only the essentials. Kayak Adventure Checklist divides the bare essentials into dry packs. We suggest that you color coordinate all of your packs for the sake of organization and easy access to exactly what you need.
Paddle camping out of a kayak is a lot easier than backpacking, but it still requires sticking to only the necessities (including, of course, some moonshine). Packing everything around your body inside your kayak is important for maintaining balance and weight distribution, which should always be in the back of your mind when packing your kayak. This checklist is organized from the front to the rear of your boat with weight distribution in mind.
The Kayak Adventure Checklist:
Key Essentials Always at Hand:
PFD (Personal Flotation Device )
Whistle
Paddle
Emergency paddle
Clothing Essentials: Green/gray bag
[Towards the front]
Warm base layers
Extra shirt
Extra pants
Socks
Undies
Hat
Sunglasses
Gloves
Key Essentials: Red bag
[Central for easy access]
First aid kit
Float chair/sleeping pad
Knife
A snack bar or two for emergencies
Fresh Water Bag
Basecamp Essentials: Yellow bag
[Packed towards middle and rear of your kayak]
Micro-stove
Water filter
Food and snacks
Apple Pie Moonshine
Spork
Sponge for clean up
Sleeping Essentials: Packed individually in the rear
One-person tent
Sleeping bag
Travel pillow
Hammock
Kayak Camping Tips and Tricks:
When packing your food and snacks, separating your three daily meals into small ziplocks per meal and then larger Ziplocs bag for the whole day. Putting your food into individual day Ziplocs will keep you organized and on top of a good meal-planning schedule. Packing a separate, easy accessible sack with a few granola bars or fruit bites is a great way to avoid unpacking entirely when you just want a little something to snack on.
Clothing selection is largely dependent on the weather. Pack accordingly. We encourage the use of quick-dry fabrics and fleece, avoiding wool and cotton, which do not retain heat when wet and take longer to dry.
Lastly, our favorite camping trick: packing a little liquid fun, such as our Apple Pie Moonshine. Store your shine in a narrow plastic bottle that can be wrapped up in your sleeping pad, mostly for safety but also to save space.
That lump in your throat and the butterflies in you gut will settle down after a day on the water. The adventure remains, and the high of sharing your fellow travelers experiences of the day is one of the greatest parts about waterside nights.
Taking in your day is that much more enjoyable while sipping on some Apple Pie Moonshine to liven up your night before you fade off to sleep to conquer another day on the water.
Summer time is here for a short time, so get out there grab your Kayak Trip Checklist and some Apple Pie Moonshine and have a good time!