4th of July Moonshine Recipes

Barbecue, fireworks, and loads of red, white, and blue. Yes, I am talking about America's favorite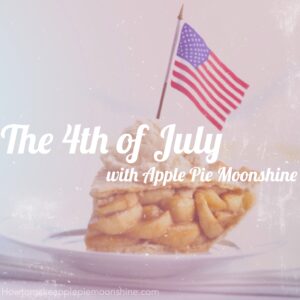 holiday, the 4th of July!
Independence Day is the highlight of the summer season. Typically, the 4th is a day packed with fun, sun, and the best BBQ food around. However, the sweet American classic key to any Independence Day celebration is definitely apple pie! The combination of flaky buttery crust and gooey warm apples is the "apple on top" of any summertime feast.
With our Apple Pie Moonshine Recipe, those mouth-watering tastes are captured in smooth liquid form. Give a splash to a glass and add ice for a continuously refreshing beverage throughout your celebration.
Here are a few of our favorite ways to celebrate the 4th of July with our Apple Pie Moonshine-inspired recipes. These recipes will be the hit of the party and certain to blow the hat off even old "Uncle Sam."
4th of July Drinks
The Apple Pie Moonshine Way:
Apple Pie (A -la-Mode)
This personal favorite take on our moonshine cocktails mimics the authentic taste of apple pie with a touch of creamy goodness.
2 oz. Apple Pie Moonshine
1 oz. cinnamon simple syrup
1 oz. cream or milk
Garnish with cinnamon sticks and a little cinnamon
Apple Pie Chiller
This is a sweet and refreshing way to keep you cool on a hot, sunny day.
2 oz. Apple Pie Moonshine
1 oz. club soda
pinch of lemon zest
Garnish with lemon and an apple slice
4th of July Barbecue
The Apple Pie Moonshine Way:
Apple Pie Moonshine Braised Bratwurst
 What you will need:
Medium-sized skillet
Tongs
Measuring cup
4–8 bratwurst sausages
2 oz. water
2–3 oz. Apple Pie Moonshine
1 apple, thinly sliced (I recommend Granny Smith)
1 white onion, thinly sliced
½ c. sauerkraut
Steps to Follow:

Step 1: Warm 2 oz. water and 2–3 oz. Apple Pie Moonshine in skillet over medium-high heat.
Step 2: Add sliced onion and apple to skillet. Make sure to flip these once they begin to caramelize before adding brats.
Step 3: Add bratwurst. Fill spaces between brats with sauerkraut.
Step 4: Flip brats occasionally until cooked, about 10 min.
Step 5: Continue to cook onion, apple, and sauerkraut until caramelized (a warm caramel color and softness is achieved when fully caramelized).
Step 6:Once brats are cooked, grill until golden brown.
Step 7: Garnish with caramelized onion and apple and kraut mixture.
Apple Pie Moonshine Braised Short Ribs
What you will need:
large sauté pan with high edges and a lid
tongs
sharp knife
cutting board
3 lbs. short ribs
1 white onion, chopped
4 garlic cloves, chopped
4 T. butter
2 T. vegetable oil
4-5 sprigs fresh thyme- remove leaves from sprigs
1½ c. Apple Pie Moonshine
1 c. apple juice
¼ c. BBQ sauce
Steps to Follow:
Step 1: Heat butter and oil in sauté pan over medium heat.
Step 2: While butter and oil heat. Salt and pepper the short ribs on all sides.
Step 3: Add short ribs to pan and increase heat to medium-high. Brown short ribs until golden and crispy on both sides, about 5 min. per side.
Step 4: Remove ribs from pan and set aside.
Step 5: Add chopped onion, garlic, and thyme to pan and sauté until onions are translucent.
Step 6: (Optional) Add 1 cup mushrooms and stir.
Step 7: Add Apple Pie Moonshine, apple juice, and BBQ sauce. Stir until all is combined.
Step 8: Add short ribs back to pan, reduce heat to LOW, and cover. Simmer for 3 hours.
The ribs are done once they appear to be very juicy and the meat easily separates from the bone with a fork.
Serve shredded or on the bone and enjoy!
4th of July Sides
The Apple Pie Moonshine way:
Apple Cucumber Pasta Salad
What you will need:
One large mixing bowl
2 Cups cooked elbow macaroni
1 Cup Small Granny Smith apple, cored and chopped
3/4 Cup Medium cucumber, chopped
1/4 Cup chopped toasted pecans
1/4 Cup golden raisins
2 Tablespoons olive oil
3/4 Teaspoon of Apple Pie Moonshine
1/4 Teaspoon salt
1/8 Teaspoon ground black pepper
1 Tablespoon chopped fresh parsley (optional)
Steps to Follow:
Step 1: Toss all ingredients together in large bowl.
Step 2: After it is well mixed, let cool covered for 6 hours before serving.